He Pūrongo nō Education Counts - He Uiui Kaiako mō NWRM
Posted: 08/28/2012 02:39 pm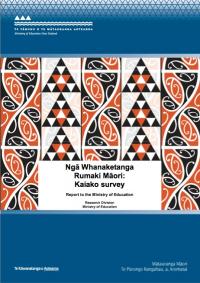 In Term 1 of 2011, Ngā Whanaketanga Rumaki Māori were made available to kura and Māori medium settings who use Te Marautanga o Aotearoa. Professional learning and development (PLD) was available to kura to support them to improve their understanding and use of Ngā Whanaketanga Rumaki Māori. Other initiatives introduced to support the Māori medium sector included Readiness Workshops for school leaders and Webinars for Boards of Trustees and kaiako. Not all kura were involved in the PLD.
The Ministry of Education sought the experiences of kaiako in Māori medium settings about Ngā Whanaketanga Rumaki Māori at which time they had been available to kura for almost a year. The Ministry was particularly interested in collecting information about the PLD, confidence in using Ngā Whanaketanga Rumaki Māori, making overall judgements and reporting to whānau about student progress and achievement. A survey for kaiako was undertaken in November 2011.
The purpose of this report is to provide a summary of the findings from the Ngā Whanaketanga Rumaki Māori Kaiako Survey.