Pae ipurangi hou - NCEA on TKI
Posted: 05/09/2012 10:09 am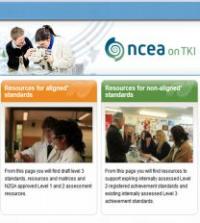 Kia ora and welcome to Te Kete Ipurangi's web page supporting the National Certificate of Educational Achievement (NCEA).
From this page you will find resources to support internally assessed Level 1 and Level 2 achievement standards aligned to The New Zealand Curriculum (2007) - as well as draft Level 3 standards and resources for internal and external assessment.
Registered standards and subject resources can be found on the NZQA website.
Aligned standards are those that have been developed specifically in line with The New Zealand Curriculum (2007). The old non-aligned standards are valid for internal assessment only, and for a limited time - until December 2012 for non-aligned Level 2 standards, and December 2013 for Level 3 standards. All New Zealand schools need to transition to using the aligned standards fully by 2014.
What do you think of this new NCEA site?
We value your feedback - please email ncea@tki.org.nz if you have any feedback on this site.