Ruia - Pae ipurangi hou
Posted: 05/15/2012 11:56 am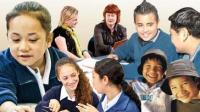 This Ruia website and its companion site (on school–whānau partnerships) have been developed for school leaders and teachers. They support government policies and are based on evidence from research and practice.
As the project's whakataukī implies, Ruia is linked to two other initiatives designed to support leaders to improve outcomes for their Māori students:
Rangiātea (exemplars and case studies)
He Kākano (a national professional development programme for English-medium secondary and area schools).
School leaders are responsible for implementing their schools' appraisal policies. Research shows that effective school leaders focus on practices that will have a positive impact on learning for teachers and students. This Ruia website promotes practices that are proven to work across a range of contexts. School leaders can use it to fine-tune their appraisal practices in ways that lead to improved outcomes for Māori students.
Because effective appraisal interrogates the relationship between teachers' actions and their students' learning, parts of this website are also for teachers. By using this site, teachers will have more sense of ownership of the appraisal process as it contributes to cycles of professional learning that lead to improved outcomes for Māori students.
Boards of trustees are responsible for developing appraisal policies and monitoring their implementation. Boards can use this website to gain an understanding of how appraisal can lift learning for both teachers and students.